To view a recorded webinar, simply click on the title or and the session will load. Most webinars have PDF versions of the slide set available, and some have the text from the "chat pod" from the other session, as well as Q&A from the post-webinar survey.
Current Webinars (2016-2017)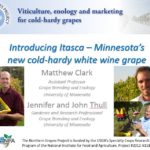 May 9, 2017
Introducing Itasca – Minnesota's New Cold-Hardy White Wine Grape, by Matthew Clark, John Thull, and Jennifer Thull
PDF of Clark and Thull Slides
Link to Itasca paper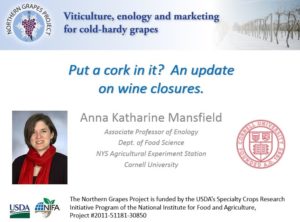 April 11, 2017
Put a cork in it? An update on wine closures, by Anna Katharine Mansfield
PDF of Mansfield slides
March 22, 2017
Impact of Training Systems on Viticulture Performance of Cold-Hardy Wine Grapes, by Amaya Atucha, Madeline Wimmer, and Paolo Sabbatini
PDF of Atucha and Wimmer slides
PDF of Sabbatini slides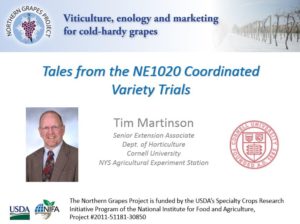 February 14, 2017
Tales from the NE1020 Coordinated Variety Trials, by Tim Martinson and NGP team leaders
PDF of Martinson slides
Summary yield data (PDF)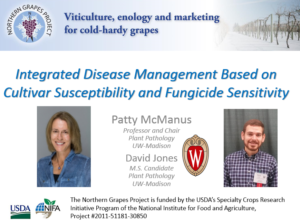 January 10, 2017
Integrated Disease Management Based on Cultivar Susceptibility and Fungicide Sensitivity, by Patty McManus and David Jones
PDF of McManus slides
PDF of Jones slides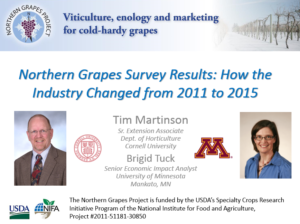 December 13, 2016
Northern Grapes Survey Results: How the industry changed from 2011 to 2015, by Brigid Tuck and Tim Martinson
PDF of Tuck slides
PDF of Martinson slides
Past Webinars
2012
January 10, 2012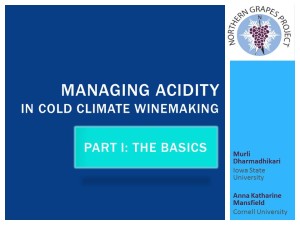 Managing Acidity in the Winery, Anna Katharine Mansfield and Murli Dharmadhikari
Chat transcript from 7pm session
Q & A from post-webinar survey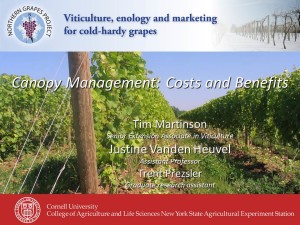 February 14, 2012
Nuts and Bolts of Canopy Management, Mike White and Tim Martinson
Chat transcript from noon session
Q & A from post-webinar survey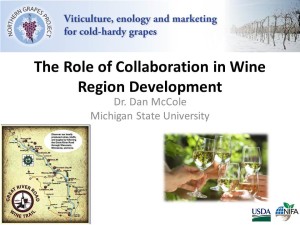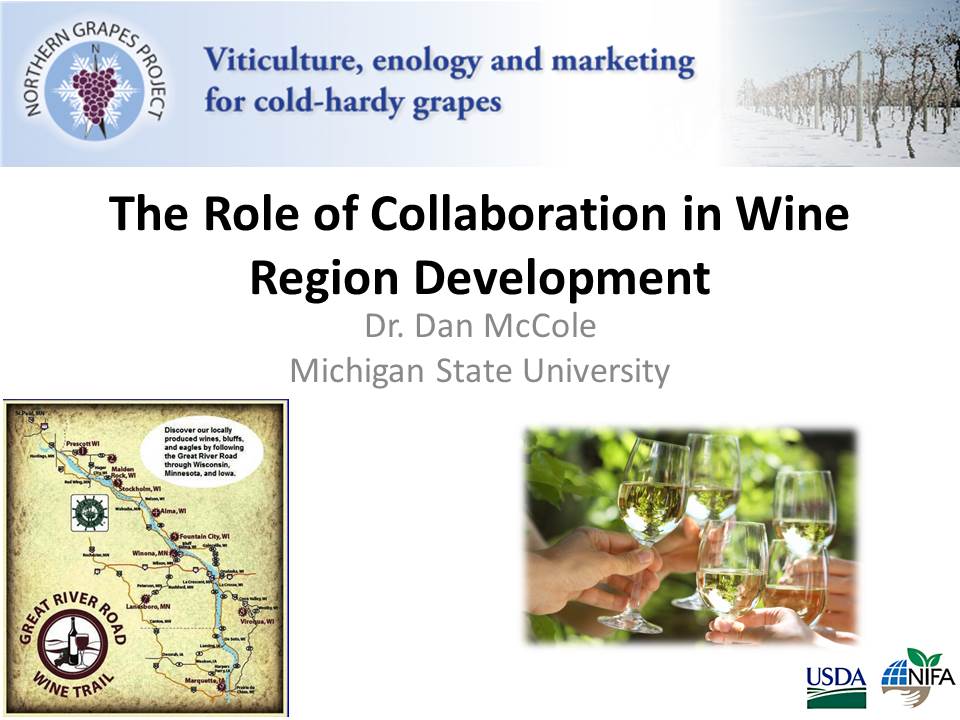 March 13, 2012
Setting the Stage for Future Growth: Winery Collaboration and Economic Impacts,
Dan McCole and Bill Gartner
Chat transcript from 7pm session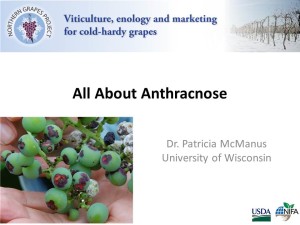 April 10, 2012
Grape Disease Management Basics (and All about Anthracnose),
Wayne Wilcox and Patty McManus
Chat transcript from 7pm session
Q&A from post-webinar survey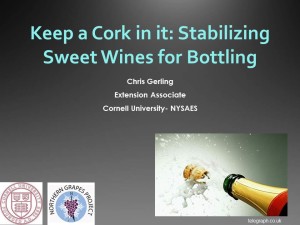 May 8, 2012
Keep a Cork in it: Stabilizing Sweet Wines for Bottling, Chris Gerling
Chat transcript from noon session
Q&A from post-webinar survey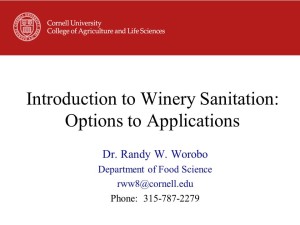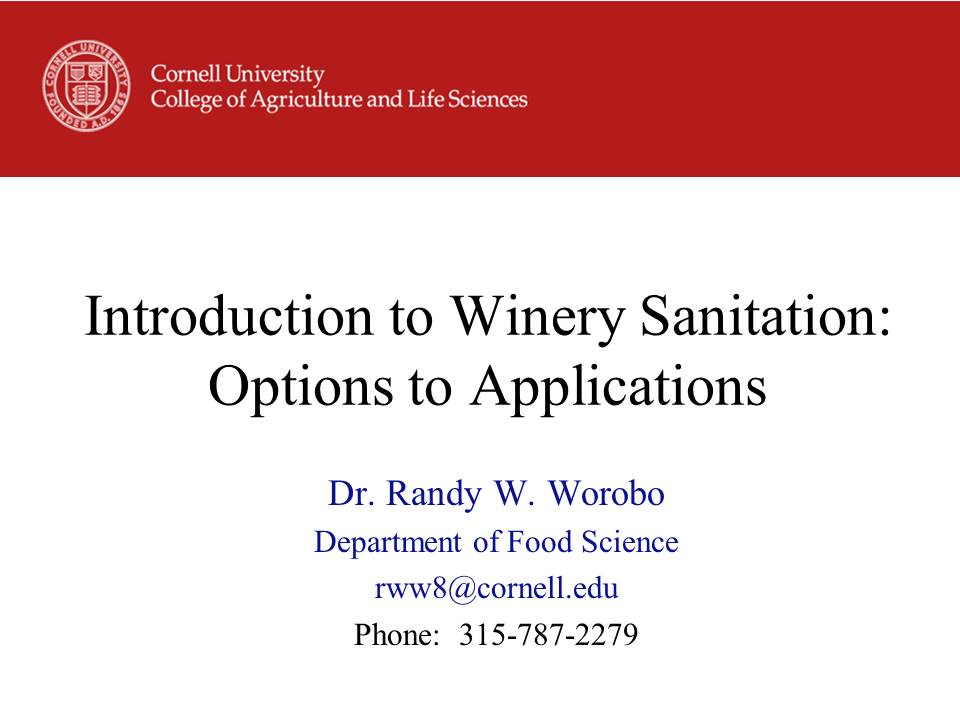 June 12, 2012
Introduction to Winery Sanitation: Options and Applications, Randy Worobo
2012-2013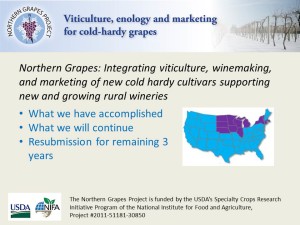 November 27, 2012
Year 1 Progress Report and Baseline Survey Results, Tim Martinson and Bill Gartner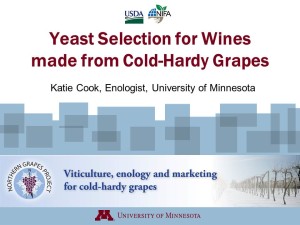 December 18, 2012
Yeast Selection for Wines made from Cold-Hardy Grapes
PDF of slides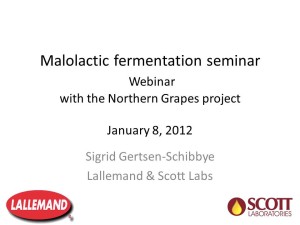 January 8, 2013
Malolactic Fermentation, Sigrid Gertsen-Schibbye
PDF of slides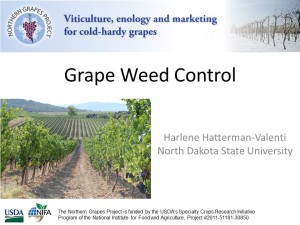 February 12, 2013
Vineyard Floor Management, Justine Vanden Heuvel and Harlene Hatterman-Valenti
PDF of slides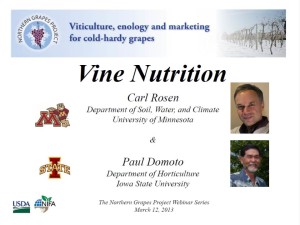 March 12, 2013
Vine Nutrition Carl Rosen and Paul Domoto
PDF of slides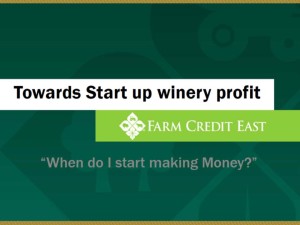 April 9, 2013
Towards Startup Winery Profitability: When do I Start Making Money? and Customer Satisfaction Drives Tasting Room Sales, Gregg McConnell and Miguel Gomez.
Towards Startup Winery Profitability (PDF of slides)
The Tasting Room Experience and Winery Customer Satisfaction (publication), Miguel Gomez and Erin Kelly, Dyson School of Applied Economics and Management, Cornell University
2013-2014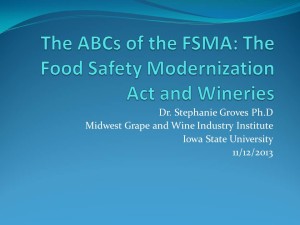 November 12, 2013
The ABCs of the FSMA:  The Food Safety Modernization Act and Wineries,
Stephanie Groves
PDF of slides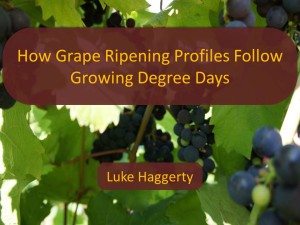 December 10, 2013
How grape ripening follows growing degree days and Managing vineyards for high quality, Luke Haggerty and John Thull
PDF of Haggerty's slides
PDF of Thull's slides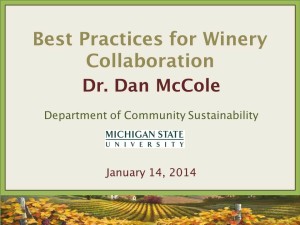 January 14, 2014
Planning for future growth and investment in your winery
by Gregg McConnell, Farm Credit East (PDF of slides)
Best Practices for winery collaboration
by Dan McCole, Michigan State University (PDF of slides)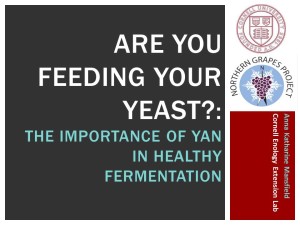 February 11, 2014
Are you feeding your yeast?  The importance of YAN in healthy fermentation
by Anna Katharine Mansfield
PDF of slides
Information about spectrophotometers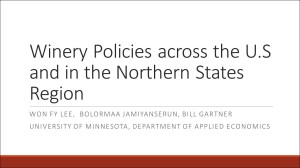 March 20, 2014
Winery Policies across the U.S and in the Northern States Region, Bill Gartner
PDF of slides.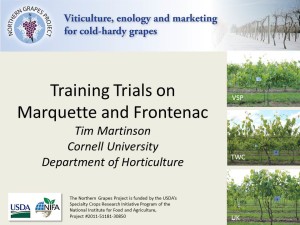 April 8, 2014
Impact of crop load & training systems on viticultural & enological performances of Marquette and Frontenac grown in Michigan & New York, Tim Martinson, Cornell Univ. & Paolo Sabbatini, Michigan State Univ.
PDF of slides
2014-2015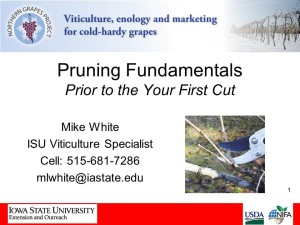 November 20, 2014
Trellis Design and Construction and Pruning Fundamentals Prior to Your First Cut, Steve Lerch, Cornell University and Mike White, Iowa State University
PDF of slides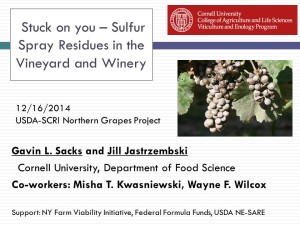 December 16, 2014
Stuck on You – Sulfur Spray Residues in the Vineyard and Winery, by Gavin Sacks and Jillian Jastrzembski
PDF of slides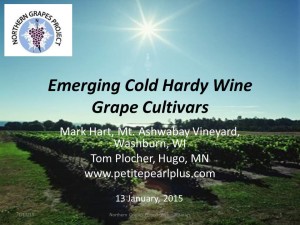 January 13, 2015
Emerging Cold Hardy Wine Grape Cultivars, by Mark Hart and Tom Plocher
PDF of slides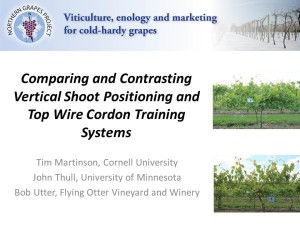 February 10, 2015
Comparing and Contrasting Vertical Shoot Positioning and Top Wire Cordon Training Systems, by Tim Martinson, John Thull, and Bob Utter
PDF of slides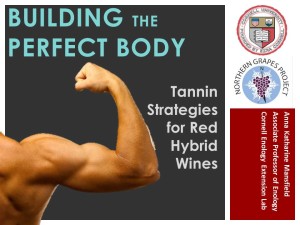 March 10, 2015
Building the Perfect Body: Tannin Strategies for Red Hybrid Wines, by Anna Katharine Mansfield
PDF of slides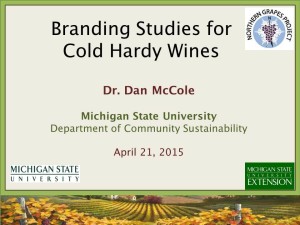 April 21, 2015
Branding Studies for Cold Climate Wines, by Bill Gartner and Dan McCole
PDF of slides
2015-2016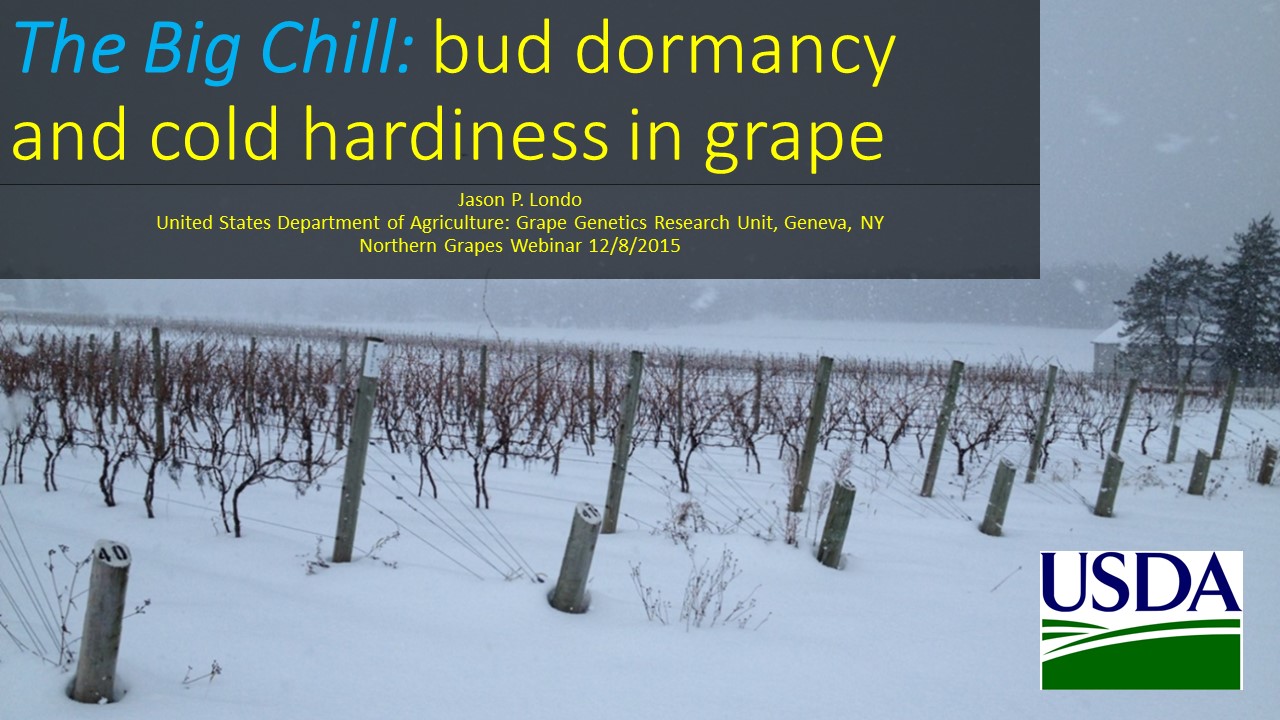 December 8, 2015
The Big Chill: Cold Acclimation and Recovery from Spring Frost in Grapes in New York, by Jason Londo and Tim Martinson
PDF of Londo slides 
PDF of Martinson slides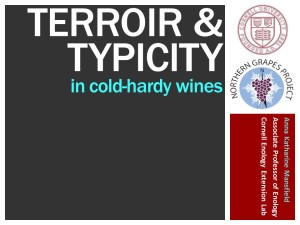 January 12, 2016
Terroir and Typicity in Cold Hardy Wines, by Anna Katharine Mansfield
PDF of slides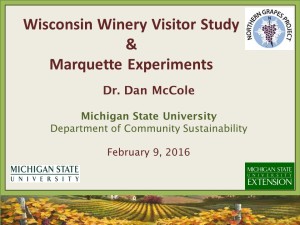 February 12, 2016
Branding and Best Management Practices for Cold Hardy Wines and Wineries by Dan McCole and Bill Gartner
PDF of slides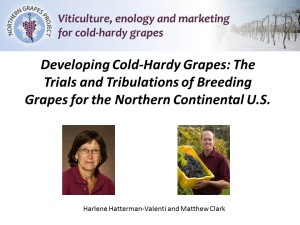 March 8, 2016
Developing Cold-Hardy Grapes: The Trials and Tribulations of Breeding Grapes for the Northern Continental U.S., by Matt Clark and Harlene Hatterman-Valenti
PDF of slides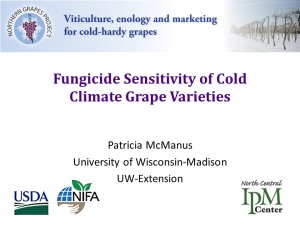 April 12, 2016
Northern Grapes Project Research Results: Fungicide Sensitivity and Vine Nutrition of Cold-Hardy Cultivars, by Patty McManus and Carl Rosen
PDF of slides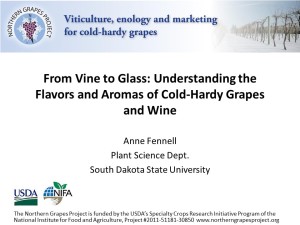 May 17, 2016
From Vine to Glass: Understanding the Flavors and Aromas of Cold-Hardy Grapes and Wine, with Anne Fennell, Somchai Rice, and Adrian Hegeman.
PDF of slides