The Northern Grapes Project was funded in 2011 by the USDA NIFA Specialty Crops Research Initiative.  The emergence of cold hardy, Vitis riparia-based wine grape cultivars in the 1990s created a new and rapidly expanding industry of small vineyard and winery enterprises in more than 12 states in New England, northern New York, and the Upper Midwest, boosting rural economies in those regions.  Read more.

As we head into August, veraison will commence, and along with it, thoughts of when to harvest. A great deal of research has been conducted to characterize the ripening profiles of Vitis vinifera cultivars, which helps growers make informed decisions regarding harvest. However, little is known about the changes in chemical composition during ripening of the cold hardy cultivars.
As part of the Northern Grapes Project, recent work at the University of Minnesota tracked changes in fruit composition of 11 cultivars, including seven cold hardy cultivars. Click here to access the full report, which has links to two summaries of this work, as well as other resources related to measuring grape maturity.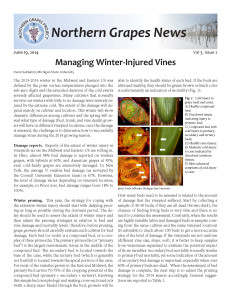 In this issue:
-Managing Winter-Injured Vines -NGP Profile: Miguel Gomez -2012 Michigan Tasting Room Research – A Series
Issue #4, The Impact of Tasting Room Fees on Wine Purchases
-Northern Grapes Project Funding Update
-Equipment for Small Wineries