The Northern Grapes Project was funded in 2011 by the USDA NIFA Specialty Crops Research Initiative.  The emergence of cold hardy, Vitis riparia-based wine grape cultivars in the 1990s created a new and rapidly expanding industry of small vineyard and winery enterprises in more than 12 states in New England, northern New York, and the Upper Midwest, boosting rural economies in those regions.  Read more.
The Northern Grapes Project Webinar Series
"Northern Grapes Survey Results: How the industry changed from 2011 to 2015"

Tuesday, December 13th, 2016
12:00 Noon Eastern (11:00 am Central)

7:00 pm Eastern (6:00 pm Central)

Two industry surveys, conducted by the Northern Grapes Project in 2012 and 2016, tracked changes in acreage, wine production, and economic impact of cold-tolerant grapes across the Midwest and Northeast.  Increases in acreage, production, and sales were recorded.  Overall economic impact from Cold climate cultivars increased from $401 million in 2011 to $539 million in 2015.  The number of industry-associated jobs increased from 12,600 to 18,700 in 2015.  Viticultural and winemaking practices changed over the five-year project, reflecting impacts of Northern Grapes Project research and outreach. 
We thank the following organizations and businesses for their support of the Northern Grapes Webinar Series:
Grower Associations Sponsors
Iowa Wine Growers Association
Illinois Grape Growers and Vintners Association
North Dakota Grape and Wine Association
Eastern Winery Exhibition
Colorado Wine Industry Development Board
Michigan Wine Industry Council
Connecticut Vineyard and Winery Association
Wisconsin Grape Growers Association
South Dakota State University Grape Program
Industry Gold Sponsors
Double A Vineyards
Agro K
Bevens Creek Vineyard & Nursery
Industry Silver Sponsors
Scott Labs
Read the August issue of Northern Grapes News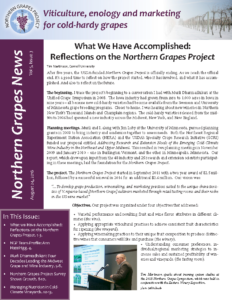 In this Issue:
– What we Have Accomplished: Reflections on the Northern Grapes Project.
– NGP Team Profile: Ann Hazelrigg.
– Murli Dharmadhikari: Four Decades Leading the Midwest Grape and Wine Industry.
– Northern Grapes Project Survey Shows Growth.
– Managing Nutrition in Cold-Climate Vineyards.
Click here to download.
Thank You to Our Sponsors

I want to express my deep appreciation to all of you for your support of the Northern Grapes Project over the past five years. Although our funding ends on August 31, project team members are committed to continuing this effort by continuing the Northern Grapes News and Northern Grapes Project Webinar Series through the coming year. The project team is also in the process of planning a second Northern Grapes Project.
I especially appreciate Mike White's extraordinary effort to ask you for additional contributions to continue the outreach efforts during the 'gap' in funding. It's much appreciated. The overall goal is to raise around $20,000 to provide pro­gram support for these outreach efforts over the coming year. This request reflects the cost of 25% FTE salary and fringes for a program associate to complete the tasks outlined below.
I greatly appreciate contributions from the Iowa Wine Grow­ers Association and the Illinois Grape Growers and Vintners Association that have been received to date.
I pledge to:
1. Continue with our schedule of six Northern Grapes We­binars.
2. Produce additional Northern Grapes News issues, with ad­ditional results from our project.
3. Continue development of a fully indexed, permanent site for our outreach efforts.
4. Prominently acknowledge support of your organization on our website, webinars, and newsletters.
The Northern Grapes Project has created a community of re­searchers, extension specialists and producer associations that is focused on the developing Northern Grapes indus­try. We want to keep this community active and engaged by providing continuing outreach and access to research-based information. Thank you for your support.

Tim Martinson
Read the July issue of News You Can Use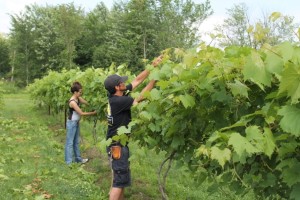 Canopy management involves manipulation of vine growth to achieve production goals such as optimizing light interception, managing disease pressure, adjusting cropping levels or maximizing fruit quality. Site selection, grape variety, training system, soil fertility, and water management will all influence the amount of canopy management needed throughout the season. However, canopy management is labor intensive, so it is important to understand the costs and benefits associated with these practices. Mike White and Tim Martinson covered various canopy management practices, and the economics of them, in the February 2012 Webinar "Nuts and Bolts of Canopy Management."
As canopy management affects light exposure to the clusters, this month we will also review the work being done in Clayton, NY, looking at the difference in fruit chemistry between shaded and exposed clusters of Marquette and Frontenac. In short, clusters exposed to sunlight have lower titratable acidity and higher soluble solids at harvest than clusters that are shaded. A research report from the Year 4 Northern Grapes Project Progress Report has complete details.
Click here for the full report, which includes preliminary information about shoot positioning and leaf pulling experiments being conducted this year to improve light interception on high-wire cordon Frontenac.