The Northern Grapes Project was funded in 2011 by the USDA NIFA Specialty Crops Research Initiative.  The emergence of cold hardy, Vitis riparia-based wine grape cultivars in the 1990s created a new and rapidly expanding industry of small vineyard and winery enterprises in more than 12 states in New England, northern New York, and the Upper Midwest, boosting rural economies in those regions.  Read more.
The Northern Grapes Project featured at the Eastern Winery Exposition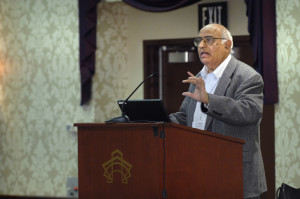 Make plans now to attend the Eastern Winery Exposition and the Northern Grapes Symposium from March 17th to 19th at the Oncenter in Syracuse, NY. The Eastern Winery Exposition is a wine industry trade show and conference designed for Eastern U.S. and Canadian wineries and vineyards.
The Northern Grapes Symposium on March 18th will comprise of five sessions featuring results of the project. In addition, three other sessions outside of the symposium will include Northern Grapes Project team members, who will present additional information generated by the project.
Topics covered will include winter injury, tannin management, training systems, cropping and canopy management, winemaking to optimize fruit expression with white hybrids, and a project overview.
Additional sessions will focus on tasting room sales, consumer demographics, and balancing economics with quality fruit.
The Eastern Winery Exposition will include 30 sessions and workshops, featuring over 40 speakers, in enology, money/marketing/management, and viticulture. The trade show will have over 200 exhibiting companies, offering show specials, hands-on demonstrations, and answers to product questions. In addition, there will be numerous networking opportunities and social events, as well as two auctions to raise scholarship money for students studying viticulture and enology.
Organizers of the Eastern Winery Exposition offer a variety of registration options to accommodate both interest and budget. Register here
http://www.easternwineryexposition.com/registration/
Hotel and lodging information is at
http://www.easternwineryexposition.com/hotels/
Click here for a more complete description of the Northern Grapes Symposium.
Tuesday, February 10th, 2015
12:00 Noon Eastern (11:00 am Central)
7:00 pm Eastern (6:00 pm Central)
Join Bob Utter of Flying Otter Vineyard and Winery, John Thull of the University of Minnesota, and Tim Martinson of Cornell University as they discuss the pros and cons of Vertical Shoot Positioning (VSP) and Top Wire Cordon (TWC) training systems. Bob will discuss TWC, including the advantages (including reduced labor, frost protection, and varmint predation), disadvantages, and how to convert from VSP to TWC. John will cover how the narrow canopies created on VSP trellises allow for great sunlight interception and lower disease pressure, and the control that VSP gives the grower in the way of canopy management and what mechanized practices can be implemented. Tim will talk about the training system trials in New York on Marquette and Frontenac, and the differences observed between them, including yield and fruit composition.
Register here: https://cornell.qualtrics.com/SE/?SID=SV_dm33v6vhzkhrNY1&Q_JFE=0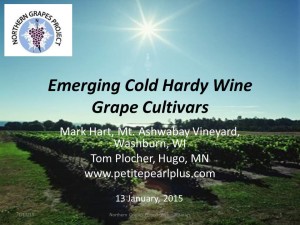 Click here to view the webinar, given by Mark Hart and Tom Plocher
Click here for a PDF version of the slides.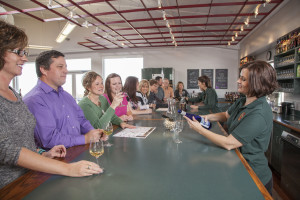 Customer satisfaction is especially important for the cold climate wineries; as an emerging industry, it relies on visitors (regional customers and tourists) for an important share of total sales. By ensuring that customers have a satisfactory experience, the winery can create customer loyalty and positive press as clients recommend the establishment to their friends, colleagues and family. In the winery business, customer satisfaction is primarily determined by the tasting room experience, as tasting room visitors are not solely interested in the wine.  
Click here for the full report
, which includes links to reports and a webinar covering the results of the tasting room customer satisfaction survey.