The Northern Grapes Project was funded in 2011 by the USDA NIFA Specialty Crops Research Initiative.  The emergence of cold hardy, Vitis riparia-based wine grape cultivars in the 1990s created a new and rapidly expanding industry of small vineyard and winery enterprises in more than 12 states in New England, northern New York, and the Upper Midwest, boosting rural economies in those regions.  Read more.
Read the June issue of News You Can Use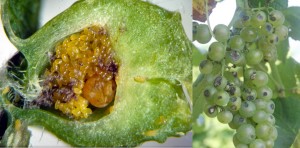 Good disease and insect control programs are crucial to producing high-quality grapes, and in turn, great wines. Developing an effective pest management program requires access to complete, accurate, research-based information.
This month, we are sharing two documents that will serve as a cornerstone in developing, or improving, your pest management program. Wayne Wilcox and Greg Loeb, both of Cornell University, are experts in grape fungal diseases and insect pests, respectively. Each year, they publish documents that are packed with great information for both novice and experienced grape growers, which are based on over 20 years of research and hands-on experience. These publications not only synthesize results of their ongoing research projects, but also share new developments in control measures, as well as insights into the biology of grape fungal diseases and insects, allowing for a complete understanding of the pests you are trying to control.
Click here for the full report, or here to download the Grape Insect and Mite Pests document or here for the Grape Disease Control document.
Read the May issue of Northern Grapes News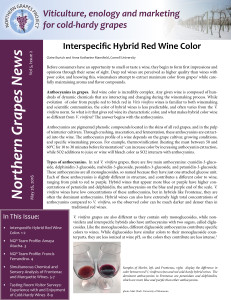 In This Issue:
-Interspecific Hybrid Red Wine Color.
-NGP Team Profile: Amaya Atucha.
-NGP Team Profile: Francis Ferrandino.
-Simultaneous Chemical and Sensory Analysis of Frontenac and Marquette Wines.
-Tasting Room Visitor Surveys: Experience with and Enjoyment of Cold-Hardy Wines.
Click here to download.
Read the Year 4 Progress Report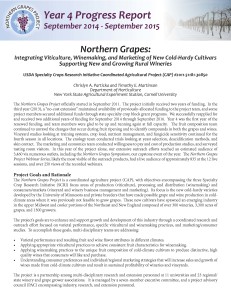 Click here to download and read the Year 4 Progress Report, which outlines our accomplishments from September 2014 – September 2015.  The progress report includes links to "Research Reports," which cover individual projects by NGP team members.