The Northern Grapes Project was funded in 2011 by the USDA NIFA Specialty Crops Research Initiative.  The emergence of cold hardy, Vitis riparia-based wine grape cultivars in the 1990s created a new and rapidly expanding industry of small vineyard and winery enterprises in more than 12 states in New England, northern New York, and the Upper Midwest, boosting rural economies in those regions.  Read more.
Register for the May 17 Northern Grapes Webinar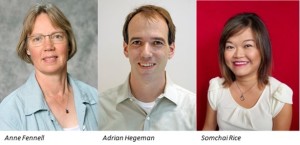 "From Vine to Glass: Understanding the Flavors and Aromas of Cold-Hardy Grapes and Wine"
Tuesday, May 17th*, 2016
12:00 Noon Eastern (11:00 am Central)
7:00 pm Eastern (6:00 pm Central)
*Please note this is a date change from the original date of May 10th.
Join Anne Fennell of South Dakota State University, Adrian Hegeman of the University of Minnesota and Somchai Rice of Iowa State University as they discuss their research conducted on Marquette and Frontenac as part of the Northern Grapes Project. Somchai will talk about flavor and aroma development in cold hardy grapes and wine, Anne will discuss gene expression in the flavor aroma and anthocyanins, and Adrian will talk about polyphenolics during development in cold hardy grapes.
Register at:
https://cornell.qualtrics.com/jfe/form/SV_9vgzv4l37knRtyZ
Read the April Issue of News You Can Use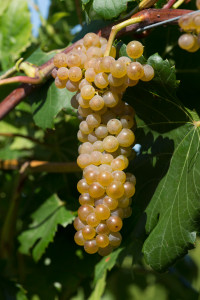 The University of Minnesota recently released its fifth cold-hardy wine grape, named 'Itasca.' Itasca arose from a 2002 cross made by Peter Hemstad between Frontenac gris and MN 1243, and was identified in 2009 as an elite seedling.
Data provided by Matthew Clark show that at harvest, titratable acidity in Itasca averages close to 10 g/L, while La Crescent is 14.5 g/L and Frontenac gris is 15.5 g/L. After the Polar Vortex winter of 2014, Itasca had over 60% primary bud survival, while other white cultivars had less (Frontenac gris, 20%: Frontenac blanc, 35%; La Crescent, 30%).
Licensed nurseries will begin selling Itasca in 2017.
Click here for the full report.
Watch the April Webinar "Northern Grapes Project Research Results: Fungicide Sensitivity and Vine Nutrition of Cold-Hardy Cultivars"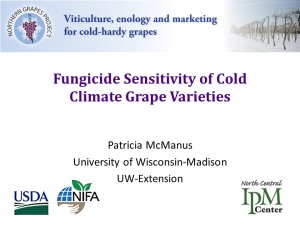 Click here to watch the webinar.
Click here to get PDF copy of the slides.
Read the February Issue of Northern Grapes News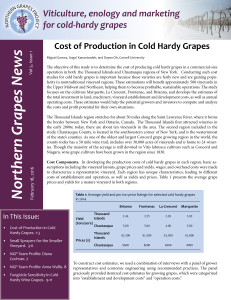 In this Issue:
Cost of Production in Cold Hardy Grapes
Small Sprayers for Smaller Vineyards
NGP Team Profile: Diana Cochran
NGP Team Profile: Anna Wallis
Fungicide Sensitivity in Cold Hardy Wine Grapes
Click here to download.
Read the Year 4 Progress Report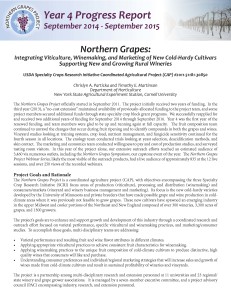 Click here to download and read the Year 4 Progress Report, which outlines our accomplishments from September 2014 – September 2015.  The progress report includes links to "Research Reports," which cover individual projects by NGP team members.