The Northern Grapes Project was funded in 2011 by the USDA NIFA Specialty Crops Research Initiative.  The emergence of cold hardy, Vitis riparia-based wine grape cultivars in the 1990s created a new and rapidly expanding industry of small vineyard and winery enterprises in more than 12 states in New England, northern New York, and the Upper Midwest, boosting rural economies in those regions.  Read more.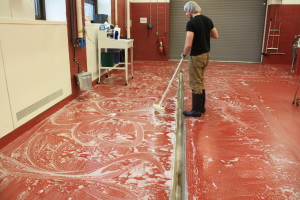 A good winery sanitation program is of key importance to wineries of all sizes, as it will improve product quality, production consistency, and product safety. The costs of having a poor sanitation program include poor product quality (or perhaps unsalable product), a loss of revenue, and a damaged reputation. As harvest is drawing near, now is a good time to review your winery's sanitation program.
Dr. Randy Worobo, Associate Professor in the Department of Food Science at Cornell University, is a well-known food safety expert, and has presented many winery sanitation workshops across the U.S. In the June 2012 Northern Grapes Project Webinar "Introduction to Winery Sanitation: Options to Applications," Dr. Worobo covered the basics of winery sanitation.
Click here to access the full report, which includes links to other winery sanitation resources.
Read the September issue of the Northern Grapes News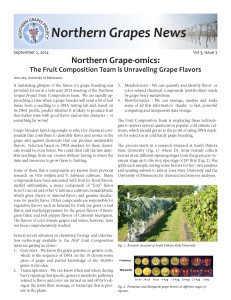 In this issue:
-Northern Grape-omics: The Fruit Composition Team is Unraveling Grape Flavors -Understanding the Travel Behaviors of Wine Tourists in Michigan's Leelanau Peninsula -Northern Grapes & NE1020 Cultivar Tasting -NGP Team Profile: Tim Martinson -NGP Team Profile: Chrislyn Particka -Training Systems for Grapevines