The Northern Grapes Project was funded in 2011 by the USDA NIFA Specialty Crops Research Initiative.  The emergence of cold hardy, Vitis riparia-based wine grape cultivars in the 1990s created a new and rapidly expanding industry of small vineyard and winery enterprises in more than 12 states in New England, northern New York, and the Upper Midwest, boosting rural economies in those regions.  Read more.

Weeds can compete with grapes for water, nutrients, and sunlight, and new growers often ask for advice in creating an effective weed management program for their vineyards. Competition from weeds can be especially deleterious in the first year or two after planting, so an effective weed control program is important early on.
Click here to access the full report, which contains a link to the February 2013 webinar by Justine Vanden Heuvel and Harlene Hatterman-Valenti. This webinar covers new vineyard floor management techniques being investigated at Cornell University, as well as more traditional practices. Also included are links to other web-based resources.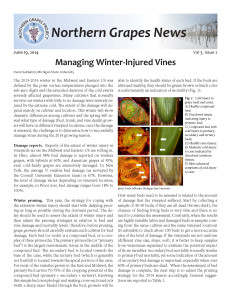 In this issue:
-Managing Winter-Injured Vines -NGP Profile: Miguel Gomez -2012 Michigan Tasting Room Research – A Series
Issue #4, The Impact of Tasting Room Fees on Wine Purchases
-Northern Grapes Project Funding Update
-Equipment for Small Wineries