The Northern Grapes Project was funded in 2011 by the USDA NIFA Specialty Crops Research Initiative.  The emergence of cold hardy, Vitis riparia-based wine grape cultivars in the 1990s created a new and rapidly expanding industry of small vineyard and winery enterprises in more than 12 states in New England, northern New York, and the Upper Midwest, boosting rural economies in those regions.  Read more.
Read the Year 3 Northern Grapes Project Progress Report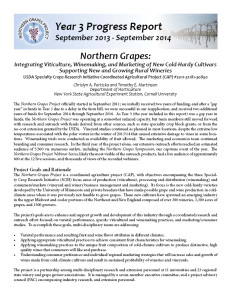 The Northern Grapes Project officially started in September 2011; we initially received two years of funding, and after a "gap year" in funds in Year 3 due to a delay in the farm bill, we were successful in our reapplication, and received two additional years of funds for September 2014 through September 2016. As Year 3 (the year included in this report) was a gap year in funds, the Northern Grapes Project was operating at a somewhat reduced capacity, but team members still moved forward with research and outreach with funds derived from other sources, such as state speciality crop block grants, or from the no-cost extension granted by the USDA. Vineyard studies continued as planned in most locations, despite the extreme low temperatures associated with the polar vortex in the winter of 2013/14 that caused extensive damage to vines in some locations. Winemaking trials were conducted as availability of fruit allowed. The marketing and economics team continued branding and consumer research. In the third year of the project alone, our extensive outreach efforts reached an estimated audience of 5,500 via numerous outlets, including the Northern Grapes Symposium, our capstone event of the year. The Northern Grapes Project Webinar Series, likely the most visible of the outreach products, had a live audience of approximately 600 at the 12 live sessions, and thousands of views of the recorded webinars.
Click here to read the full report.
Read the March issue of Northern Grapes News.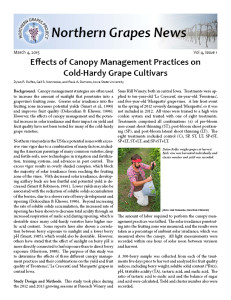 In this issue:
-Effects of Canopy Management Practices on Cold-Hardy Grape Cultivars
-Results from the Northern Grapes Project Baseline Survey – A Series. Industry Maturation and Concerns
-NGP Team Profile: Gail Nonnecke
-NGP Team Profile: Jacek Koziel
-VitiNord 2015
Click here to read the newsletter. 


Register for the March Northern Grapes Project Webinar "Building the Perfect Body: Tannin Strategies for Red Hybrid Wines"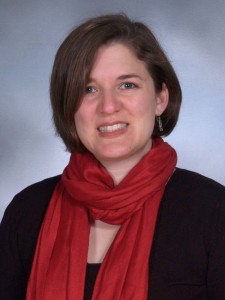 Tuesday, March 10th, 2015
12:00 Noon Eastern (11:00 am Central)
7:00 pm Eastern (6:00 pm Central)
Wines produced from red hybrid grapes are often criticized for light body, poor structure, and insufficient ageability. The recent discovery of tannin-binding compounds in hybrid grapes suggest that traditional processing techniques, like extended maceration or enzyme treatments, are largely ineffective at increasing tannin concentrations in these wines. Exogenous tannin products offer one means of tannin enhancement, but guidelines for most products are designed for V. vinifera cultivars and are inadequate for hybrid wine production. This webinar, presented by Anna Katharine Mansfield of Cornell University, will review the current understanding of phenolic extraction and loss in hybrid wine fermentations, and the latest findings in optimized tannin addition.
To register:
https://cornell.qualtrics.com/jfe/form/SV_cCiR0QHEBZPBCVT
The Northern Grapes Project featured at the Eastern Winery Exposition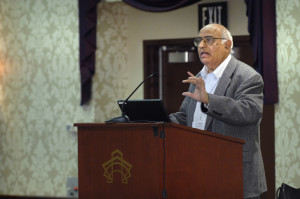 Make plans now to attend the Eastern Winery Exposition and the Northern Grapes Symposium from March 17th to 19th at the Oncenter in Syracuse, NY. The Eastern Winery Exposition is a wine industry trade show and conference designed for Eastern U.S. and Canadian wineries and vineyards.
The Northern Grapes Symposium on March 18th will comprise of five sessions featuring results of the project. In addition, three other sessions outside of the symposium will include Northern Grapes Project team members, who will present additional information generated by the project.
Topics covered will include winter injury, tannin management, training systems, cropping and canopy management, winemaking to optimize fruit expression with white hybrids, and a project overview.
Additional sessions will focus on tasting room sales, consumer demographics, and balancing economics with quality fruit.
The Eastern Winery Exposition will include 30 sessions and workshops, featuring over 40 speakers, in enology, money/marketing/management, and viticulture. The trade show will have over 200 exhibiting companies, offering show specials, hands-on demonstrations, and answers to product questions. In addition, there will be numerous networking opportunities and social events, as well as two auctions to raise scholarship money for students studying viticulture and enology.
Organizers of the Eastern Winery Exposition offer a variety of registration options to accommodate both interest and budget. Register here
http://www.easternwineryexposition.com/registration/
Hotel and lodging information is at
http://www.easternwineryexposition.com/hotels/
Click here for a more complete description of the Northern Grapes Symposium.