The Northern Grapes Project was funded in 2011 by the USDA NIFA Specialty Crops Research Initiative.  The emergence of cold hardy, Vitis riparia-based wine grape cultivars in the 1990s created a new and rapidly expanding industry of small vineyard and winery enterprises in more than 12 states in New England, northern New York, and the Upper Midwest, boosting rural economies in those regions.  Read more.
Read the May issue of Northern Grapes News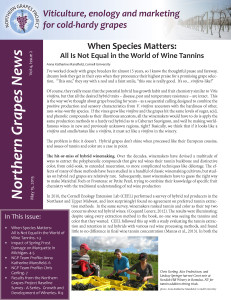 In this Issue:
-When Species Matters: All Is Not Equal in the World of Wine Tannins. -Impact of Spring Frost Damage on Marquette in Michigan. -NGP Team Profile: Anna Katharine Mansfield. -NGP Team Profile: Chris Gerling. -Results from the Northern Grapes Project Baseline Survey – A Series. Growth and Development of Wineries.  
Click here to read the newsletter.
Read the April issue of News You Can Use: Winery Profitability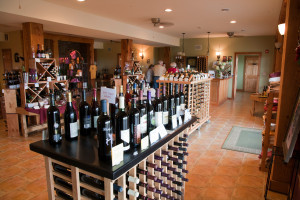 In this issue of News You Can Use, we are highlighting two past Northern Grapes Project webinars, both by Gregg McConnell of Farm Credit East, who directs their Winery Benchmarks Program.  Gregg discusses how to make a start-up winery profitable in the first webinar, and covers "what happens next" in the second.
Click here to read the full report
Watch the April 21 Webinar "Branding Studies for Cold Climate Wines."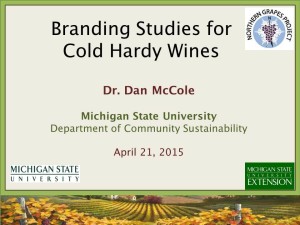 Click here to watch the webinar.
Click here to download the slides.
Read the Year 3 Northern Grapes Project Progress Report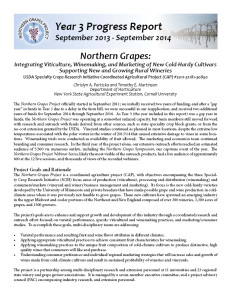 The Northern Grapes Project officially started in September 2011; we initially received two years of funding, and after a "gap year" in funds in Year 3 due to a delay in the farm bill, we were successful in our reapplication, and received two additional years of funds for September 2014 through September 2016. As Year 3 (the year included in this report) was a gap year in funds, the Northern Grapes Project was operating at a somewhat reduced capacity, but team members still moved forward with research and outreach with funds derived from other sources, such as state speciality crop block grants, or from the no-cost extension granted by the USDA. Vineyard studies continued as planned in most locations, despite the extreme low temperatures associated with the polar vortex in the winter of 2013/14 that caused extensive damage to vines in some locations. Winemaking trials were conducted as availability of fruit allowed. The marketing and economics team continued branding and consumer research. In the third year of the project alone, our extensive outreach efforts reached an estimated audience of 5,500 via numerous outlets, including the Northern Grapes Symposium, our capstone event of the year. The Northern Grapes Project Webinar Series, likely the most visible of the outreach products, had a live audience of approximately 600 at the 12 live sessions, and thousands of views of the recorded webinars.
Click here to read the full report.