The Northern Grapes Project was funded in 2011 by the USDA NIFA Specialty Crops Research Initiative.  The emergence of cold hardy, Vitis riparia-based wine grape cultivars in the 1990s created a new and rapidly expanding industry of small vineyard and winery enterprises in more than 12 states in New England, northern New York, and the Upper Midwest, boosting rural economies in those regions.  Read more.
Click here

to read the February 2014 Issue of Northern Grapes News.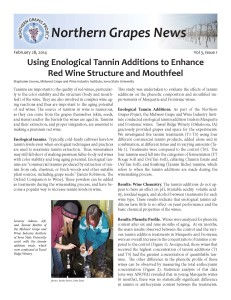 In this issue:
-Using Enological Tannin Additions to Enhance Red Wine Structure and Mouthfeel -NGP Team Profile: Anne Fennell -NGP Team Profile: Rhoda Burrows -NGP Team Profile: Harlene Hatterman-Valenti -Assessing the Nutrient Status of Cold-Hardy Wine Grapes -2012 Michigan Wine Tasting Room Reesarch: A Series.  Issue #3, Awareness and Perceptions of Cold Hardy Grape Wines
***************************************************************
"Policies affecting the viability of the cold climate grape and wine industry."
Bill Gartner, University of Minnesota  
THURSDAY,
March 20th, 2014
(note change of regular date)
12:00 Noon Eastern (11:00 am Central)
7:00 pm Eastern (6:00 pm Central)
One of the obstacles to growth for wineries that scored high on the recent baseline survey was "government policies." What particular policies were seen as restraining growth, however, was not identified. As part of the Northern Grapes Project, Bill Gartner of the University of Minnesota has taken a look at the various policies that differ between states and is in the process of determining how those policies may affect winery production. This webinar will detail some of the policy differences between states in the northern grapes region and also review some of the preliminary findings about how they may be affecting winery output.
***************************************************************
We've made great strides in the first two years of the Northern Grapes Project!  Some of our accomplishments include completing the baseline survey and publishing the results in a series of reports including "Economic Contribution: Vineyards and Wineries of the North"; collecting two years of vine performance data from 49 field studies in 12 states; performing winemaking trials with over 300 fermentation lots; beginning to elucidate the changes that occur in gene expression and metabolite production during the grape berry ripening process; and surveying customers in tasting rooms to learn about drivers of customer behaviors and satisfaction.
Included in the Year 2 Progress Report are short summaries of each study conducted as part of the Northern Grapes Project.  You can access the full study reports by clicking on links embedded in the report.
Our outreach efforts are outlined in the report, which reached an estimated audience of 4,600 through numerous outlets, including the Northern Grapes Symposium, our capstone event of the year.
Read the full report to find out more!