The Northern Grapes Project was funded in 2011 by the USDA NIFA Specialty Crops Research Initiative.  The emergence of cold hardy, Vitis riparia-based wine grape cultivars in the 1990s created a new and rapidly expanding industry of small vineyard and winery enterprises in more than 12 states in New England, northern New York, and the Upper Midwest, boosting rural economies in those regions.  Read more.
For the latest updates and announcements please "Like" @NorthernGrapesProject on Facebook.  
---
The Northern Grapes Project Webinar Series
Announcing the February Webinar
*Note: Please click this link for yield and fruit composition data from the NE1020 trials*
(Update Feb 15) A recording of this webinar is now available online click here.
Tales from the NE1020 Coordinated Variety Trials
Tuesday, February 14th, 2017
12:00 Noon Eastern (11:00 am Central)

7:00 pm Eastern (6:00 pm Central)

With Tim Martinson, and NGP team members with variety trials in their state.
Confirmed participants (as of February 7th):  Harlene Hatterman-Valenti (ND), Diana Cochran (IA), Terence Bradshaw (VT), Sonia Schloemann (MA), Anne Fennell (SD)
Since 2012, yield, fruit composition, and vine performance has been evaluated at experimental vineyards in ND, SD, NE, IA (2), MI (2), NY(2), VT, CT, and MA, as part of the "NE1020 Coordinated Variety Trial" multistate project.  We chose to focus on Frontenac, with four to five years of field data at each site providing a window on how the climate and site characteristics influenced vine performance.  Several challenges – including the 2014 polar vortex, and late spring frost (2015) – occurred at different locations, which illustrates some of the risks growers face.  In the first half hour, Tim Martinson will summarize overall data trends.  Then we will open it up to other project team members for informal questions and descriptions about trial results at their sites.
We thank the following organizations and businesses for their support of the Northern Grapes Webinar Series:
Grower Association Sponsors: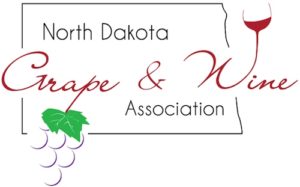 Industry Silver Sponsors:

---
Summaries are now available online from baseline (2012) and end-of-project (2016) surveys. Please see these links for NGP economic reports by University of Minnesota Extension:
Economic Contribution of Vineyards and Wineries of the North, 2015
Wineries of the North
Vineyards and Grapes of the North
---
Read the December issue of Northern Grapes News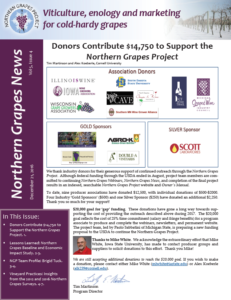 In this Issue:
-Donors Contribute $14,750 to Support the Northern Grapes Project (Alex Koeberle and Tim Martinson)
-Lessons Learned: Northern Grapes Baseline and Economic Impact Study (Brigid Tuck)
-How Northern Grapes Vineyards and Wineries have Changed from 2011-2015 (Table)
-NGP Team Profile: Brigid Tuck (Brigid Tuck and Alex Koeberle)
-Vineyard Practices: Insights from the 2012 and 2016 Northern Grapes Surveys (Tim Martinson)
Click here to download.