The Northern Grapes Project was funded in 2011 by the USDA NIFA Specialty Crops Research Initiative.  The emergence of cold hardy, Vitis riparia-based wine grape cultivars in the 1990s created a new and rapidly expanding industry of small vineyard and winery enterprises in more than 12 states in New England, northern New York, and the Upper Midwest, boosting rural economies in those regions.  Read more.
Register for the Northern Grapes Symposium and Michigan Grape and Wine Conference
Super Hardy Grape Cultivars: An Option for Michigan & the Upper Midwest
February 24-26, Kalamazoo, MI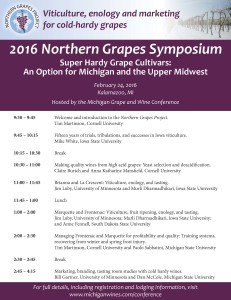 This year, the Northern Grapes Project is being hosted by the Michigan Grape and Wine Conference in Kalamazoo, Michigan, as a pre-conference option. Visit  http://www.michiganwines.com/conference for full conference details and registration.
(click agenda to enlarge)
Watch the January Northern Grapes Webinar
Terrior and Typicity in Cold-Hardy Wines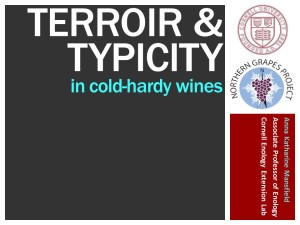 Click
here
to watch the webinar.
Click
here
 for a PDF of the slides.  
Read the December issue of News You Can Use

A major component of any vineyard management system is training and pruning vines in a manner that is appropriate for the cultivar, location, and production goals, among other factors. And, a well-constructed trellis system is critical to support the vines, regardless of the training system that's chosen. While much of the research being conducted by the Northern Grapes Project Viticulture Team focuses on vineyard management practices and how they affect yield and fruit quality, this issue of News You Can Use includes links to three past webinars and one newsletter article that focus on the basics of trellising, pruning, and training.  
Click here
for the full report, which includes links to three past Northern Grapes Project Webinars as well as a past Northern Grapes News article.  
Read the December Issue of Northern Grapes News

In this issue:
Downy Mildew in Cold Hardy Grapes. NGP Team Profile: Terence Bradshaw. NGP Team Profile: Carl Rosen Low Temperature Response in Grapevines. 2015-2016 Northern Grapes Project Webinar Schedule.  
Click here
to download.