The Northern Grapes Project was funded in 2011 by the USDA NIFA Specialty Crops Research Initiative.  The emergence of cold hardy, Vitis riparia-based wine grape cultivars in the 1990s created a new and rapidly expanding industry of small vineyard and winery enterprises in more than 12 states in New England, northern New York, and the Upper Midwest, boosting rural economies in those regions.  Read more.
Read the November issue of Northern Grapes News

In this issue:
Downy Mildew in Cold Hardy Grapes. NGP Team Profile: Terence Bradshaw. NGP Team Profile: Carl Rosen Low Temperature Response in Grapevines. 2015-2016 Northern Grapes Project Webinar Schedule.  
Click here
to download.  
 Announcing the 2015-2016 Webinar Schedule
December 8, 2015
"The Big Chill: Cold Acclimation and Recovery from Spring Frost in Grapes in New York"
Jason Londo, USDA-ARS, Grape Genetics Research Unit and Tim Martinson, Cornell University
Register for the December 8th webinar here: https://cornell.qualtrics.com/jfe/form/SV_09ewehLyUU5w4oR
 January 12, 2016
"Terroir and Typicity in Cold-Hardy Grapes"
Anna Katharine Mansfield, Cornell University
February 9, 2016
"Branding and Best Management Practices for Cold Hardy Wines and Wineries"
Bill Gartner, University of Minnesota and Dan McCole, Michigan State University
 March 8, 2016
"Cold-Hardy Grape Breeding at the University of Minnesota and North Dakota State University"
Matt Clark, University of Minnesota and Harlene Hatterman-Valenti, North Dakota State University
April 12, 2016
"Northern Grapes Project Research Results: Fungicide Sensitivity and Vine Nutrition of Cold-Hardy Cultivars"
Patricia McManus, University of Wisconsin-Madison and Carl Rosen, University of Minnesota
May 10, 2016
"From Vine to Glass: Understanding the Flavors and Aromas of Cold-Hardy Grapes and Wine"
Anne Fennell, South Dakota State University; Adrian Hegeman University of Minnesota; and Somchai Rice, Iowa State University
Read the October issue of News You Can Use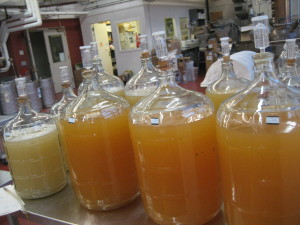 When considering choice of yeast, there are many options that winemakers can choose from. One must consider not only the variety of grape, but also the desired wine style, growing conditions in the vineyard, and winemaking conditions in the cellar. Research being done as part of the Northern Grapes Project is looking at how different yeast strains can reduce acidity, as well as enhance desirable flavors and aromas, resulting in recommendations for matching yeast and cultivar.  
Click here
for the full report, which includes links to Northern Grapes News articles as well as a webinar about yeast selection.