The Northern Grapes Project was funded in 2011 by the USDA NIFA Specialty Crops Research Initiative.  The emergence of cold hardy, Vitis riparia-based wine grape cultivars in the 1990s created a new and rapidly expanding industry of small vineyard and winery enterprises in more than 12 states in New England, northern New York, and the Upper Midwest, boosting rural economies in those regions.  Read more.
---
Summaries are now available online from baseline (2012) and end-of-project (2016) surveys. Please see these links for NGP economic reports by University of Minnesota Extension:
Economic Contribution of Vineyards and Wineries of the North, 2015
Wineries of the North
Vineyards and Grapes of the North
---
Read the December issue of Northern Grapes News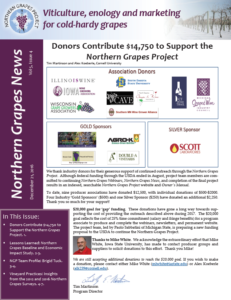 In this Issue:
-Donors Contribute $14,750 to Support the Northern Grapes Project (Alex Koeberle and Tim Martinson)
-Lessons Learned: Northern Grapes Baseline and Economic Impact Study (Brigid Tuck)
-How Northern Grapes Vineyards and Wineries have Changed from 2011-2015 (Table)
-NGP Team Profile: Brigid Tuck (Brigid Tuck and Alex Koeberle)
-Vineyard Practices: Insights from the 2012 and 2016 Northern Grapes Surveys (Tim Martinson)
Click here to download.
---
The Northern Grapes Project Webinar Series
"Integrated Disease Management Based on Cultivar Susceptibility and Fungicide Sensitivity"
A recording is now available online: Youtube link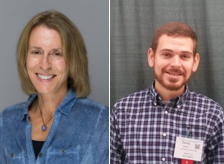 Patty McManus and David Jones
University of Wisconsin-Madison  
Tuesday, January 10th, 2016
12:00 Noon Eastern (11:00 am Central)

7:00 pm Eastern (6:00 pm Central)

The speakers will discuss their recent research conducted in Wisconsin on susceptibility of cultivars to downy mildew, powdery mildew, and black rot, and how this knowledge can be integrated into disease management programs.  Patricia McManus is Professor and Chair of Plant Pathology at the University of Wisconsin-Madison, where she collaborates on the Northern Grapes Project to evaluate cold-hardy grape varieties for diseases and sensitivity to copper- and sulfur-based fungicides.  David Jones is a M.S. candidate in the McManus lab and a soon-to-be Extension Educator at Michigan State Extension.
We thank the following organizations and businesses for their support of the Northern Grapes Webinar Series:
Grower Association Sponsors: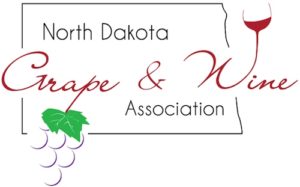 Industry Silver Sponsors: