The Northern Grapes Project was funded in 2011 by the USDA NIFA Specialty Crops Research Initiative.  The emergence of cold hardy, Vitis riparia-based wine grape cultivars in the 1990s created a new and rapidly expanding industry of small vineyard and winery enterprises in more than 12 states in New England, northern New York, and the Upper Midwest, boosting rural economies in those regions.  Read more.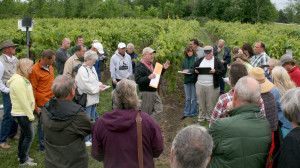 The Northern Grapes Project received an additional $2.6 million in funding from the U.S. Department of Agriculture's Specialty Crops Research Initiative to complete the final two years of the multistate effort, which began in 2011.
In the first three years of the project, team members invested heavily in field and laboratory trials, conducted consumer surveys and a baseline survey of the industry, and provided outreach programming to an aggregate audience of more than 7,000.
"The continued success of this project in obtaining funding is testament to the team's exceptional productivity and to how this project has impacted grape production in northern regions across the Northeast and upper Midwest," said Dr. Thomas Burr, Director of the New York State Agricultural Experiment Station.
The grant was funded by the USDA National Institute of Food and Agriculture's Specialty Crops Research Initiative, which supports multi-institution, interdisciplinary research on crops including fruits, vegetables, tree nuts, and ornamentals.
Click here to read the full press release.
Announcing the 2014-2015 Webinar Schedule 
November 20, 2014
"Trellis Design and Construction and Pruning Fundamentals Prior to Your First Cut"
Steve Lerch, Cornell University and Mike White, Iowa State University
December 16, 2014
"Stuck on you – Sulfur Spray Residues in the Vineyard and Winery"
Chris Gerling and Gavin Sacks, Cornell University
January 13, 2015
"Emerging Cold Hardy Wine Grape Cultivars"
Tom Plocher, Northern Winework, Inc. and Mark Hart, Mt. Ashwabay Vineyard & Orchard
February 10, 2015
"Comparing and Contrasting Vertical Shoot Positioning and Top Wire Cordon Training Systems"
Tim Martinson, Cornell University; Bob Utter, Flying Otter Vineyard and Winery; and John Thull, University of Minnesota
March 10, 2015
"Tannin Addition and Retention in Red Hybrid Wines"
Anna Katharine Mansfield, Cornell University
April 14, 2015
"Branding Studies for Cold Climate Wines"
Bill Gartner, University of Minnesota
Information about upcoming webinars is sent via the Northern Grapes Project Webinar Series email listserve.  If you are not a member, and would like to join, go to the "Contact Us" page to send an email.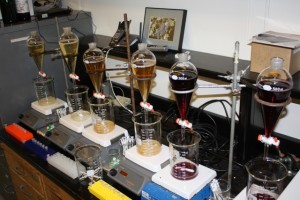 One of the challenges in making wine from cold-hardy cultivars is the high acid levels in the grapes. Therefore, one of the objectives for the Northern Grapes Project Enology Team is to optimize deacidification methods for these cultivars, which has been a focal point in their research projects and outreach activities.
As harvest is either underway or complete in most of the cold-climate states, now is a good time to review deacidification strategies. Two Northern Grapes Project webinars (Managing Acidity in the Winery and Malolactic Fermentation) and two newsletter articles (Necessary Evil: Chemical Deacidification for High Acid Wine and Using Selected Yeast Strains to Reduce Wine Total Acidity) have focused on this topic.
Click here for the full report, which includes links to additional resources.